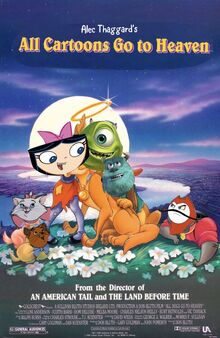 Cast
Charlie Barkin - Mike Wazowski (Monsters, Inc.)
Itchy Itchiford - James P. Sullivan (Monsters, Inc.)
Anne-Marie - Isabella Garcia-Shapiro (Phineas and Ferb)
Carface Caruthers - Mitch (Phineas and Ferb)
Killer - Molt (A Bug's Life)
Flo - Duchess (The Aristocats)
Flo's Puppies - Marie, Toulouse, Berlioz (The Aristocats), and Oliver (Oliver & Company)
Whippet Angel - Tinker Bell
King Gator - Genie (Aladdin)
Carface's Thugs - Various Villains
Gambling Doberman - ???
Kate and Harold - Vivian Garcia-Shapiro & Mr. Garcia-Shapiro (Phineas and Ferb)
Grand Chawhee - Bullseye (Toy Story 2, 3, and 4)
Terrier - ???
Stella Dallas - ???
Sir Reginald - Donkey (Shrek 1, 2, 3 & 4)
Vera - ???
Smiley - Rex (Toy Story 1, 2, 3 & 4)
H*llhound - Chernabog (Fantasia)
Rat Race Host - SpongeBob SquarePants
Sulking Mutts - ??? and ???
Chihuahua - ???
Award Host - ???
Two Dogs with Gambling Doberman - ??? and ???
Voices
Billy Crystal
John Goodman
Alyson Stoner
David Mitchell
Richard Kind
Trivia
This is the first parody spoof on The Alec Thaggard Channel where Mike is not a side character. However, Isabella is indeed the only character to appear in every spoof on the Alec Thaggard YouTube channel.
Scenes
Mike and Sulley Escape
You Can't Keep a Good Toon Down
Mitch/Sulley and Mitch's Conversation
Mardi Gras/Mike Gets Hit by a Car
Mike Goes to Heaven/Let Me Be Surprised
Mike Returns
Meet Isabella
Isabella's Night Out
A Couple of Bucks/Horse Track
Welcome to Mike's Place/Molt's Punishment
What's Mine is Yours
Soon You'll Come Home
Mike's Nightmare
Breakfast/Mitch's Murder Attempt
Let's Make Music Together
Sulley Gets Beat Up/Mike and Sulley Fight Over Isabella
Sulley Alerts the Toons
Saving Isabella/Mike vs. Mitch/Mitch's Fate
Mike Saves Isabella
Mike Apologizes to Isabella/Goodbyes Aren't Forever/Happy End
End Credits
Gallery
Community content is available under
CC-BY-SA
unless otherwise noted.