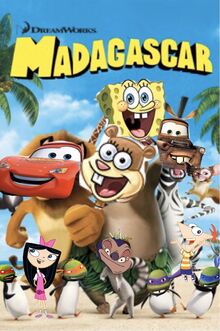 Cast
Lightning McQueen (Cars) as Alex
Mater (Cars) as Marty
SpongeBob SquarePants as Melman
Sandy Cheeks (SpongeBob SquarePants) as Gloria
Jumba Jookiba (Lilo & Stitch) as King Julien
Pleakley (Lilo & Stitch) as Maurice
Isabella Garcia-Shapiro (Phineas and Ferb) as Herself
Phineas Flynn (Phineas and Ferb) as Himself
Gizmo (Gremlins) as Mort
Leonardo (Teenage Mutant Ninja Turtles) as Skipper
Michaelangelo (Teenage Mutant Ninja Turtles) as Kowalski
Donatello (Teenage Mutant Ninja Turtles) as Private
Raphael (Teenage Mutant Ninja Turtles) as Rico
Luigi & Guido (Cars) as Mason & Phil
Various Characters as Lemurs
Forky (Toy Story 4) as Lemur who says "Run for your lives!"
Professor Poofenplotz (Phineas and Ferb) as Nana
Hyenas (The Lion King) as Fossas
Rango as Chameleon
Ms. Spider (James and the Giant Peach) as Spider
Voices
Owen Wilson
Larry the Cable Guy 
Tom Kenny
Carolyn Lawrence
David Ogden Stiers/Jess Winfield
Kevin McDonald
Alyson Stoner
Vincent Martella
Howie Mandel
Tony Shalhoub
Guido Quaroni
Amanda Plummer
Johnny Depp
Scenes
Madagascar (My Style) Part 1: Opening/Mater's Dream
Madagascar (My Style) Part 2: The Turtles/Enter Isabella and Phineas 
Madagascar (My Style) Part 3: Mater's Birthday
Madagascar (My Style) Part 4: Talking About the Wild
Madagascar (My Style) Part 5: Mater in New York
Madagascar (My Style) Part 6: Grand Central Station
Madagascar (My Style) Part 7: The Boat to Kenya
Madagascar (My Style) Part 8: Madagascar
Madagascar (My Style) Part 9: Checking into the Zoo
Madagascar (My Style) Part 10: The Locals
Madagascar (My Style) Part 11: Last Will
Madagascar (My Style) Part 12: The King
Madagascar (My Style) Part 13: Mater's Beach House
Madagascar (My Style) Part 14: Captured!
Madagascar (My Style) Part 15: Lightning Starts to Lose It
Madagascar (My Style) Part 16: The Wild
Madagascar (My Style) Part 17: The Hyenas
Madagascar (My Style) Part 18: A Snack for Lightning
Madagascar (My Style) Part 19: The Boat
Madagascar (My Style) Part 20: End Credits
"The Turtles"/"Enter Isabella and Phineas" Script
Leonardo: Just smile and wave, boys, smile and wave. Michelangelo, progress report!
Michelangelo: We're only 500 feet from the main sewer line.
Leonardo: And the bad news?
Michelangelo: We've broken our last shuttle.
Leonardo: (Looks at the spoon) Right. Raph, you're on litter patrol. We need shovels and find more popsickle sticks. We don't want to risk another cave-in.
Donatello: And me, Leonardo?
Leonardo: I want you to look cute and cuddly, Donatello. Today, we're gonna blow this dump.
Mater: Yeah! You don't see that on Animal Planet! Ha-ha. Well, show's over, folks. Thanks for coming. I hope you thought it was fresh. I'll be here all week. In fact, I'll be here for my whole life. Three hundred and sixty-five days a year, including Christmas, Hanukkah, Halloween, Kwanzaa. Please don't forget to never spay or neuter your pets. And tip your cabbie, because he's broke.
(Leonardo, Michelangelo, Donatello, and Raphael pop out the bush.)
Leonardo: (to Mater) You, quadruped. Sprechen sie Englisch?
Mater: I sprechen.
Leonardo: What continent is this?
Mater: Manhattan.
Leonardo: Hoover Dam! We're still in New York. Abort. Dive! Dive! Dive!
Mater: Hey, hey. You in the tux! Wait a minute. What are you guys doing here?
Donatello: We're digging to Antarctica. (Gets slapped)
Mater: Ant-who-tica?
Leonardo: Can you keep a secret, my monochromatic friend?
Mater: Why didn't you just say so? That's what a tow truck does.
Leonardo: Do you ever see any turtles run free around New York City? Of course not. We don't belong here. It's just not natural. It's all some kind of whacked out conspiracy. We're going to the wide open spaces of Antarctica. To the wild.
Mater: The wild? You can actually go there? This is great— (Notices that the turtles are gone) Hey, hold up! Where is this place? Show me where it is!
Leonardo: (as he gets back in the hole) You didn't see anything. (Gets out of the hole) Right?
Mater: Yes, sir. I'm sorry. No, sir.
(Enter Isabella)
Isabella: Hi, Mater.
Mater: Hey, Isabella.
Phineas: Happy birthday, Mater.
Mater: Thanks, Phineas.
Isabella: (to Mater) Can we be invited to your birthday party?
Mater: Well, of course you can.
Isabella: Thank you so much!
"Mater's Birthday" Script
Sandy: This is the life.
(Isabella and Phineas are seen relaxing)
SpongeBob: That's the spot. Oh, I'm in Heaven.
(Lightning is seen relaxing)
Lightning: (moans) Oh, I needed this.
(He
"Lightning and Mater Fight" Script
Sandy: (offscreen) Guys!
Lightning: I was the star in the greatest city on Earth! A king! Loved by my people!
Isabella: (offscreen) Knock it off, you guys.
Lightning: (to Mater: enraged) And you've ruined EVERYTHING!
Mater: "Loved"? If the people loved you, that's only because they didn't know the real you!
Sandy: Don't make me come up there. I'd get the whoopin' on both of y'all!
Phineas: (offscreen) Calm down, guys! Quit messing around.
Lightning: I thought I knew the real YOU! Mater, your rusty sides, they cancel each other out! You're nothing!
SpongeBob: Stop it! Stop it, stop it, stop it!
Sandy: You're not helping the situation.
Cast Gallery
Trivia
This is the second spoof of The Alec Thaggard Channel where Lightning is the main character, following Cartoon Story (if not counting 2, 3, and 4).
This will be the second time Mater appears in a parody spoof, after Toon Tale.
Originally, Phineas and Isabella were going to be cast as Melman and Gloria However, SpongeBob and Sandy took the roles at the last minute instead, though Isabella and Phineas play themselves instead.
Community content is available under
CC-BY-SA
unless otherwise noted.