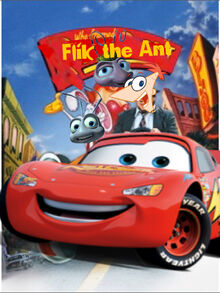 Cast
Eddie Valiant - Phineas Flynn (Phineas and Ferb)
Roger Rabbit - Flik (A Bug's Life)
Jessica Rabbit - Princess Atta (A Bug's Life)
Dolores - Isabella Garcia-Shapiro (Phineas and Ferb)
R.K. Maroon - Mr. Krabs (SpongeBob SquarePants)
Judge Doom - Mitch (Phineas and Ferb)
Marvin Acme - Larry the Cucumber (VeggieTales)
Baby Herman (Adult) - Puss in Boots (Shrek 2, 3 & 4/Puss in Boots (2011))
Baby Herman (Infant) - Robin the Frog (The Muppets)
Mickey Mouse as Himself
Bugs Bunny as Himself
Donald Duck as Himself
Daffy Duck as Himself
Smarty Weasel - Sheldon J. Plankton (SpongeBob SquarePants)
Greasy Weasel - Gantu (Lilo & Stitch)
Stupid Weasel - Leroy (Lilo & Stitch)
Wheezy Weasel - Bowser (Super Mario Bros.)
Psycho Weasel - Evile (Lilo & Stitch)
Dumbo as Himself
Bongo the Gorilla - Wreck-it Ralph
Yosemite Sam as Himself
Tweety as Himself
Goofy as Himself
Benny the Cab - Lightning McQueen (Cars 1, 2 & 3)
Droopy as Himself
Betty Boop as Himself
Toon Judge Doom - King Candy (Wreck-it Ralph)
Teddy Valiant - Ferb Fletcher (Phineas and Ferb)
Lt. Santino - Bob the Tomato (VeggieTales)
Shoes as Themselves
Mrs. Herman - Jessie (Toy Story 2, 3, and 4)
Minnie Mouse as Herself
Pinocchio as Himself
Big Bad Wolf as Himself
Porky Pig as Himself
Sylvester as Himself
Woody Woodpecker as Himself
Lena Hyena - Witch Hazel = June Foray 
Tinker Bell as Herself
Director - Anger (Inside Out)
Kids on Trolley - SpongeBob SquarePants, Baljeet Tjinder (Phineas and Ferb), and Ducky (The Land Before Time)
Angelo - Buford Van Stomm (Phineas and Ferb)
Octopus - Squidward Tentacles (SpongeBob SquarePants)
Policemen on Motorcycles - ???
Bullets - Ducky & Bunny (Toy Story 4), Iago (Aladdin), Blu (Rio), and Zazu (The Lion King)
Other Toons - Various Characters
Singing Sword - Wheezy (Toy Story 2)
Voices
Vincent Martella
Dave Foley
Julia Louis-Dreyfus
Alyson Stoner
David Mitchell
Trivia
This was going to be the first time SpongeBob appears in a parody spoof. However, the first spoof now is Madagascar (My Style). Despite this, he still has a role in this spoof, but, only this time, as one of the kids on the trolley, due to his role as Nemo in Finding SpongeBob and one of Dot's two boyfriends in A Cartoon's Life.
Gallery
Community content is available under
CC-BY-SA
unless otherwise noted.